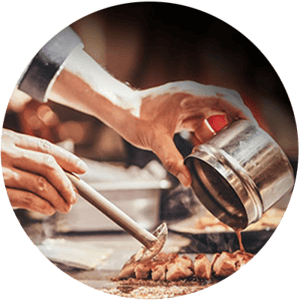 Professional Cleaning
Stera-Sheen Grill is designed to clean hot surfaces quickly and efficiently. The thick formula clings to the surface, resulting in a remarkably clean grill. Ideal for flat grills, 2-sided grills and griddles. Not for use on open flame, non-grated grills.
Easy To Use
No need for a complete shutdown or time-consuming procedures. Stera-Sheen Grill restores your grill while it's still hot, and requires minimal product and labor to produce exceptional results after just one application. It's also safer than other solutions, reducing burn risk.

Stainless Results
Daily carbon buildup can affect product quality, as well as food safety and customer experience. Regular use of Stera-Sheen Grill not only keeps your grill looking like new, but ensures a consistent, delicious product.
See Stera-Sheen Grill in action.